We can build anything from one-off prototypes to PCB assemblies in the thousands.
Automated pick-and-place facilities and hand-soldering expertise: the best of both worlds.
We assemble PCBAs within our MET and ISO 9001 certified quality processes. With our highly skilled technicians who are expert in hand-soldering both surface-mount and through-hole components, and our automated pick-and-place facilities, we have the capabilities and flexibility to build anything you need.
Manual and automated assembly

Plated through hole (PTH)

Rigid, flex-rigid and flexible PCBs

BGA, TQFP, 0603, 0402, 0201

Turnkey & box-build services

Double-sided component placement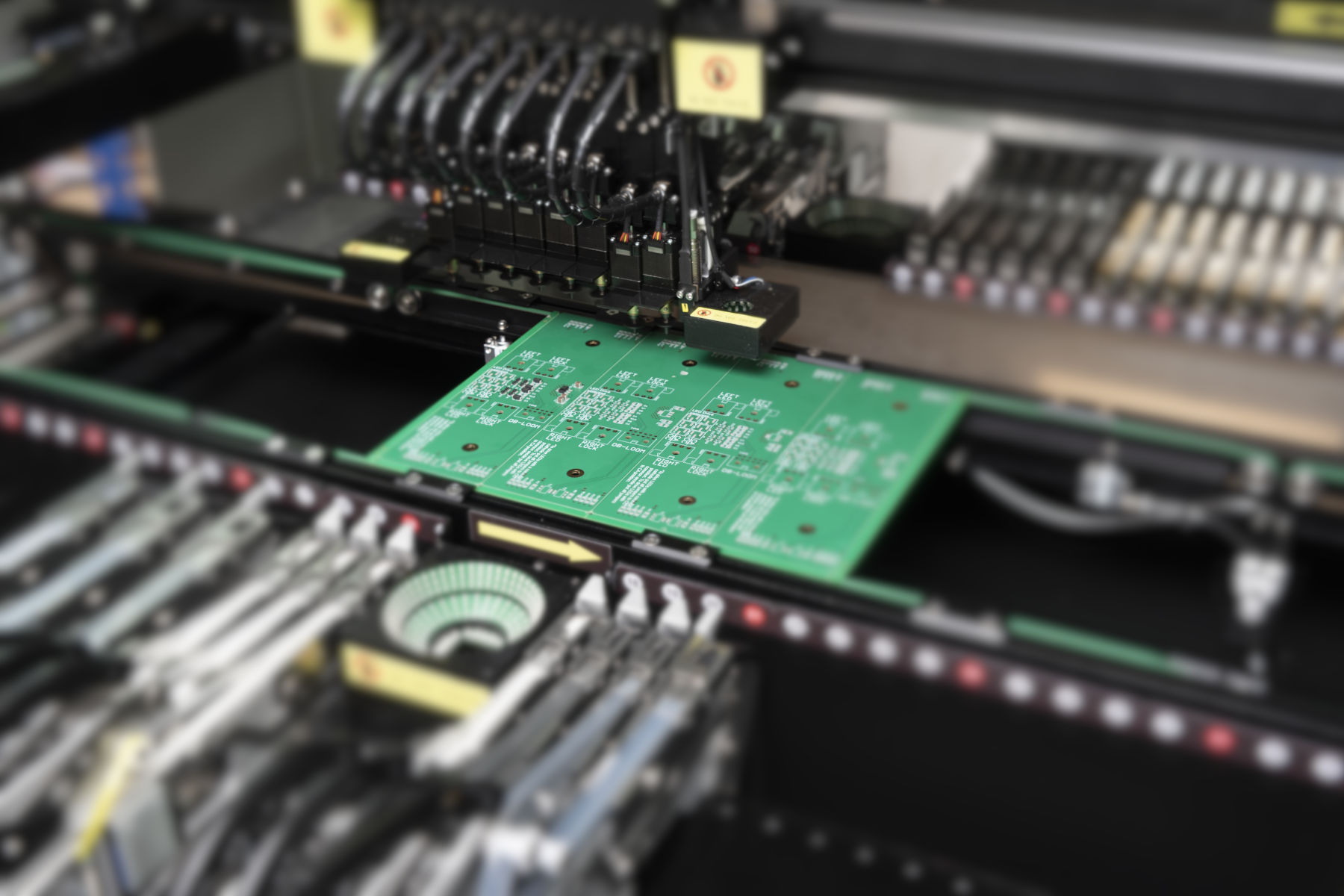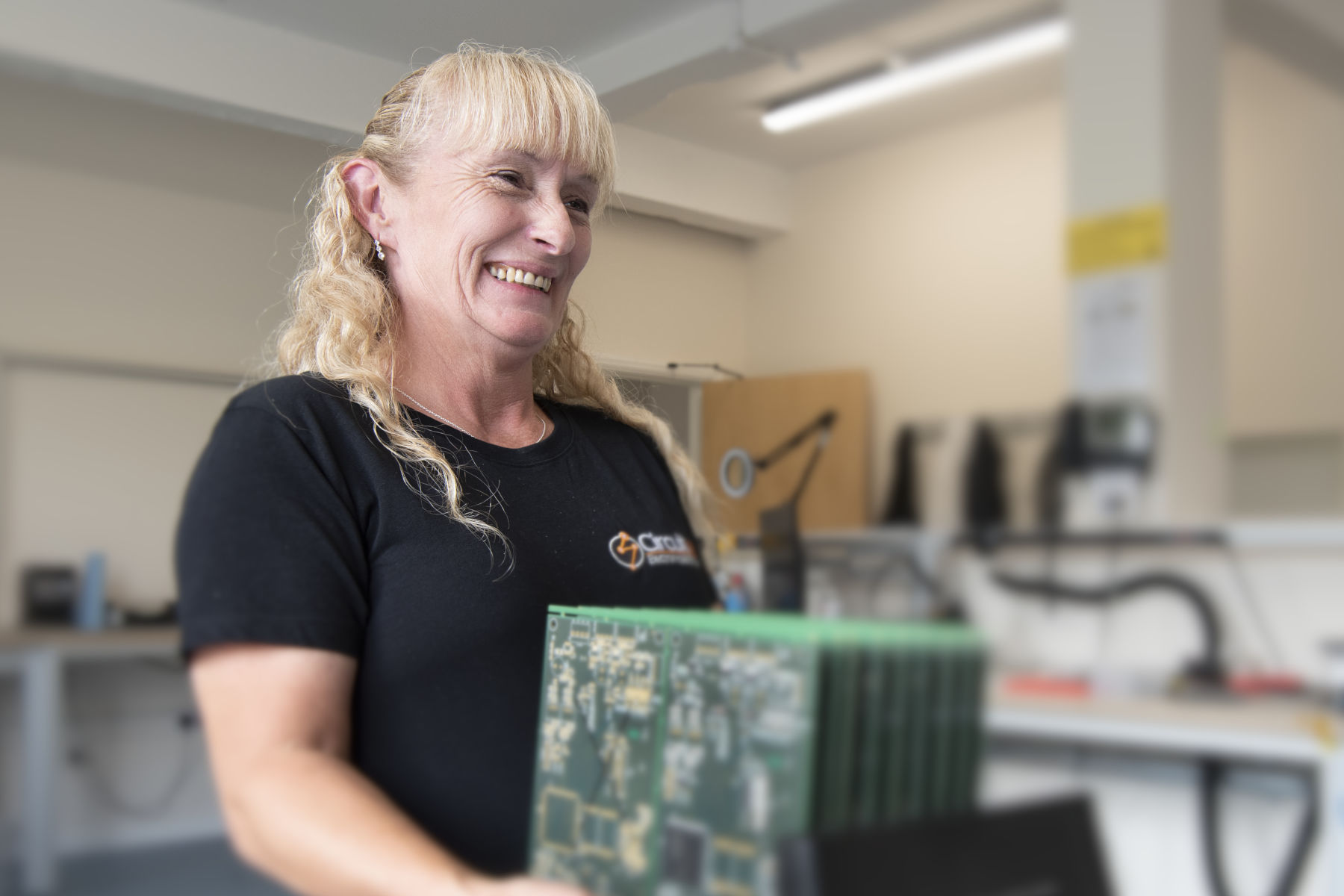 Our manufacturing service in Hampshire, UK, is responsive and flexible to your needs.
We offer build-to-print assembly if you already have all the manufacturing details documented, or if you need support with the circuit schematic or PCB layout then our engineering design team can produce a working design and appropriate manufacturing documentation for you.
We can manufacture PCBAs in volumes anything from one-offs to thousands of units and offer flexible scheduling depending whether a fast turnaround or lower cost is more important to you.
Depending on your needs, we can integrate with your existing supply chain or use our own industry contacts to procure parts and services on your behalf, leveraging our network of trusted partners when necessary to meet your budget, timescale or technical requirements.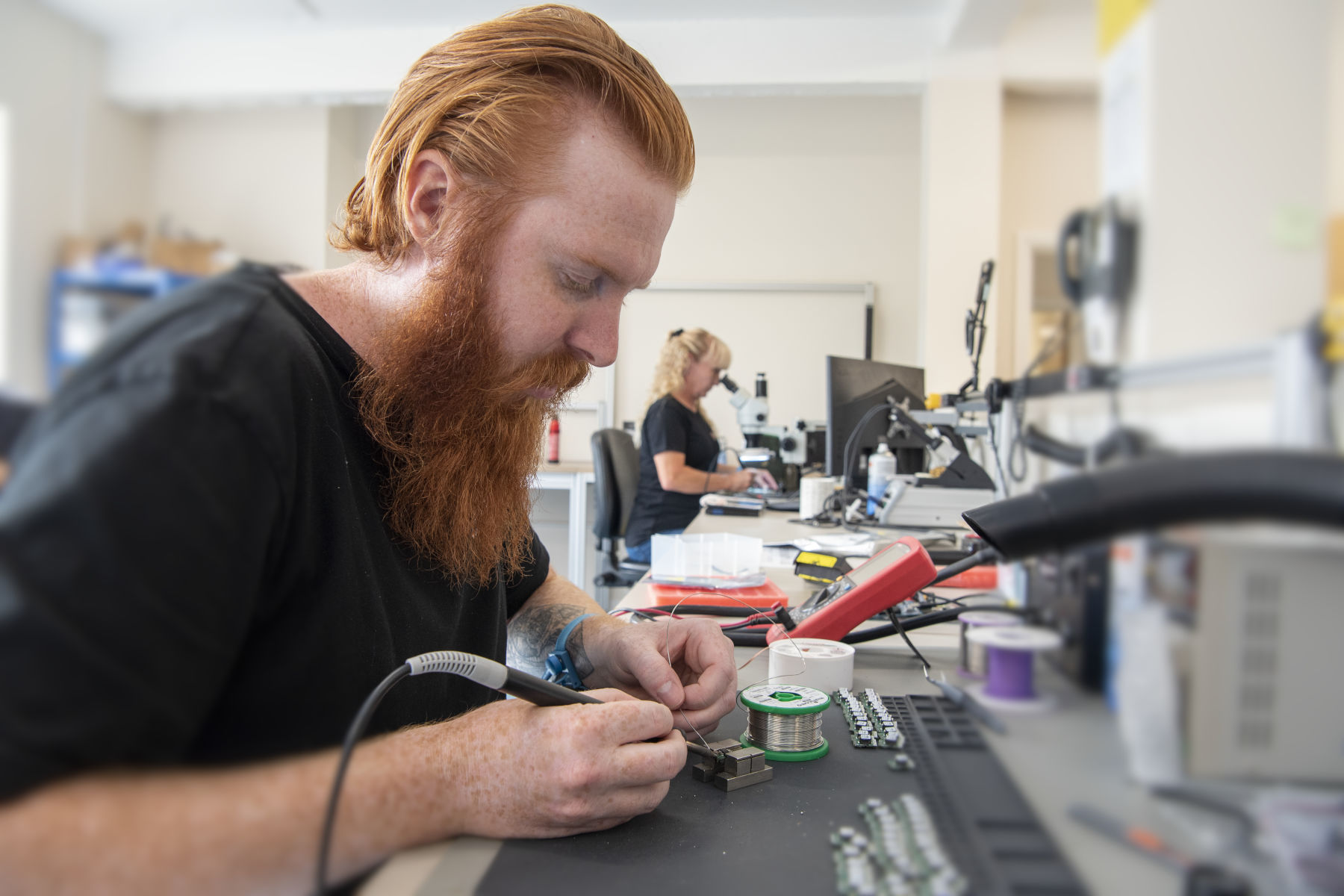 For simple boards or lower volume manufacture (one-offs to tens of units), or if you are using unusually shaped components, manual assembly of PCBs can be more appropriate than automated assembly.
With much lower setup overheads and no minimum order quantity, we can hand-assemble your prototypes and pre-production runs time- and cost-effectively, without compromising quality.
Our technicians are expert at hand-soldering both through-hole and surface mount components, down to tiny 0201 devices less than half a millimetre across.
This means your prototypes are production-representative, using the same design and components as those used in your final volume manufacture.
When we review your PCB design and requirements, we'll carefully consider whether manual or automated assembly production (or a mixture of the two) is most appropriate for your needs.
We also have an automated pick and place line, using component cameras to ensure accuracy of component placement and an 8 nozzle head to provide placement rates of up to 16,000 CPH (components per hour), with a placement accuracy of 0.01mm.
The pick and place machine can handle PCBs up to 540 x 300mm and component heights up to 18mm.
For medium (hundreds or thousands of units) to high volume manufacture, automated PCB assembly brings increased efficiencies and reduced production time, making it a cost-effective option.
For high volume production runs, we will project manage your PCB assembly with local contract electronics manufacturing partners, allowing us to offer you the economies of scale but still giving you access to our invaluable in-house engineering know-how, customised functional testing, and technical support throughout your project.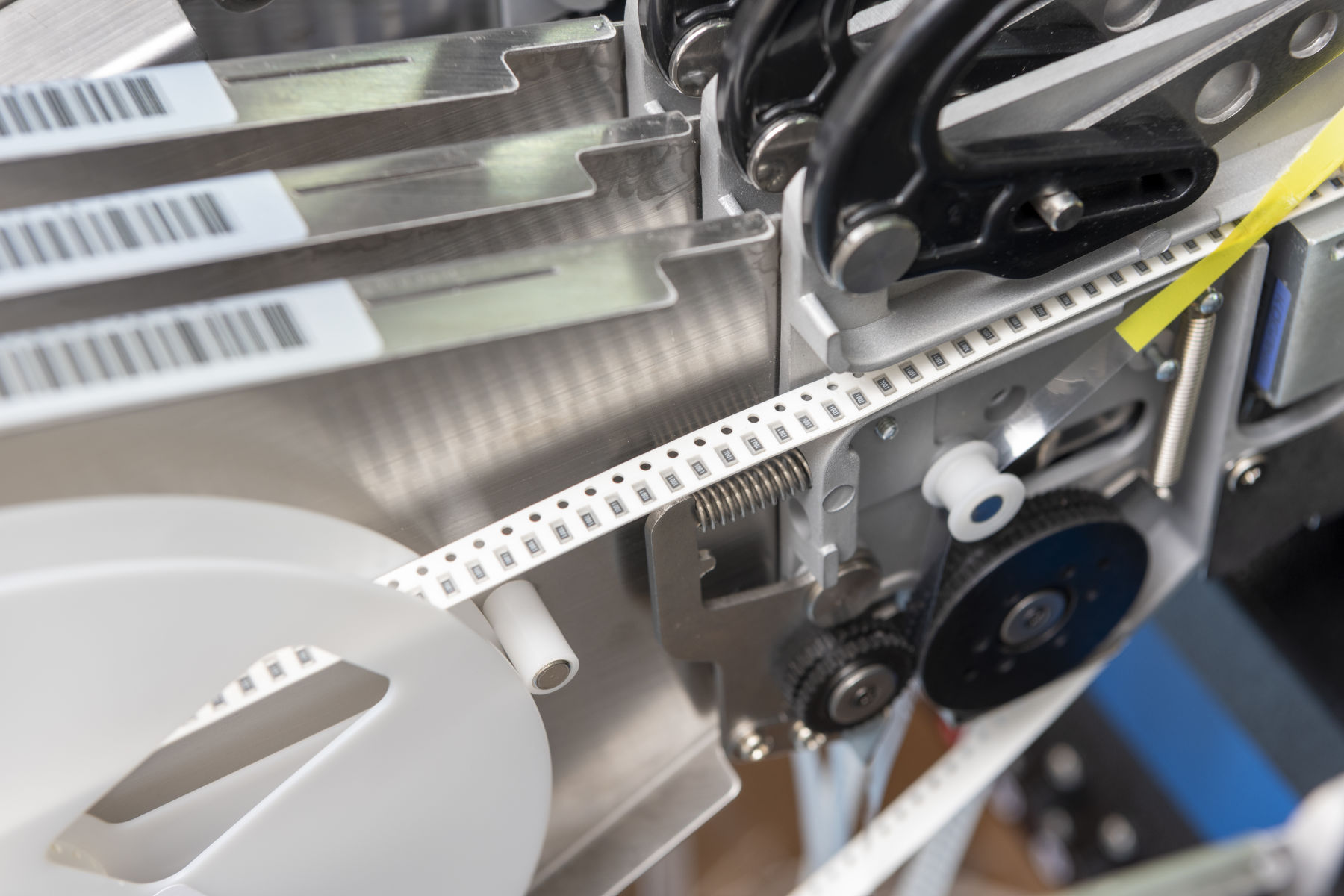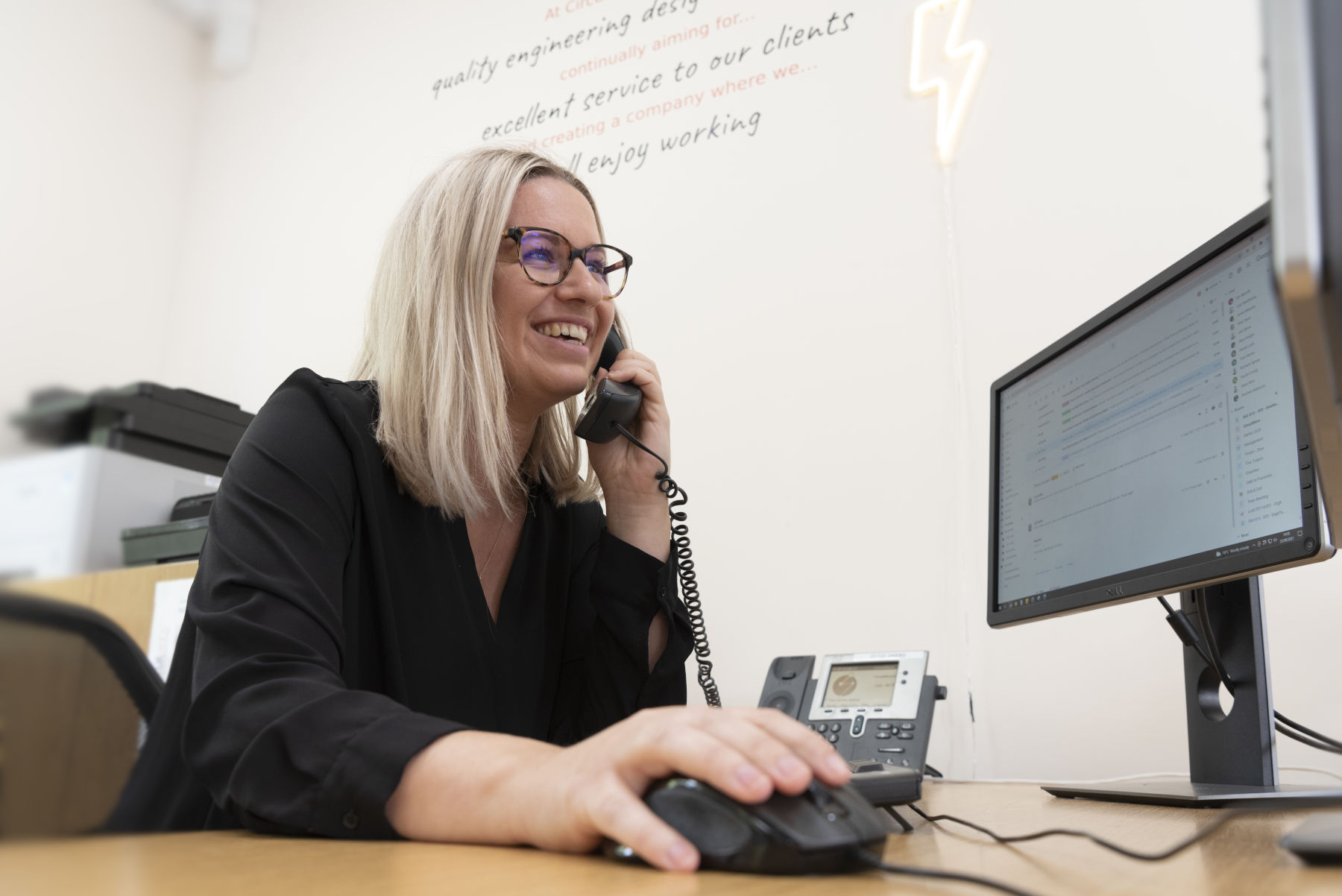 We can also handle your supply chain management for you, purchasing components from our trusted sources and approved suppliers.
Or if you'd rather source your own we're happy to build with free-issued parts too - in fact, assemblies often end up being a mixture of the two.
And if component obsolescence or procurement difficulties get in the way of your production schedule, our engineers are always on-hand to assess alternative parts or offer a redesign to accommodate new components if needed.
Our production processes ensure your product is manufactured in a tightly controlled environment.
Covering everything from supplier management and goods in to testing, final inspection and despatch, our quality system provides the framework that governs our entire PCB assembly service.
We are certified to ISO 9001:2015 and as a MET-approved factory for manufacturing electrical products for the USA market.