We've always been passionate about delivering a quality engineering design and manufacturing service to our clients, so we're delighted that this has been formally recognised by the world-respected certification body Lloyd's Register!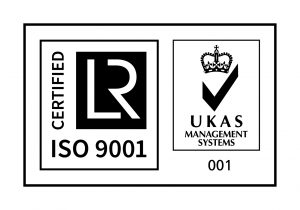 LR's external auditors rigorously inspected our Quality Management System against the requirements of ISO 9001:2015 and were able to demonstrate that we follow a robust approach that's focused on continually improving our processes and managing business risks to meet the needs of our customers. We pride ourselves on our friendly, flexible and professional service, and aim for 100% of clients to be happy with the work we do for them.
The ISO 9001 quality management standard also covers business leadership, planning, logistics, resources, supplier management, professional competencies, requirements capture, design and development, production, quality assurance, traceability, change control, performance evaluation, non-conformities, corrective actions, and continual improvement processes. As you can see, that's an in-depth examination of all our business functions and we were really proud to receive a glowing report from our external auditor, who complemented us on the excellence, maturity and suitability of our processes. We believe that's testament to the fact that our QMS doesn't use "off the shelf" templates but has been developed from the ground-up by our Quality Manager to be a perfect fit for our business needs, ensuring that we retain the agility and flexibility to respond to our clients requirements but with the rigour and control that formal processes can provide.
If you have any queries about our ISO 9001 certification, or other regulatory or compliance issues about your product to discuss, you are welcome to contact our Quality Manager; you can also download our ISO 9001 certificate or read more in our Quality Statement.